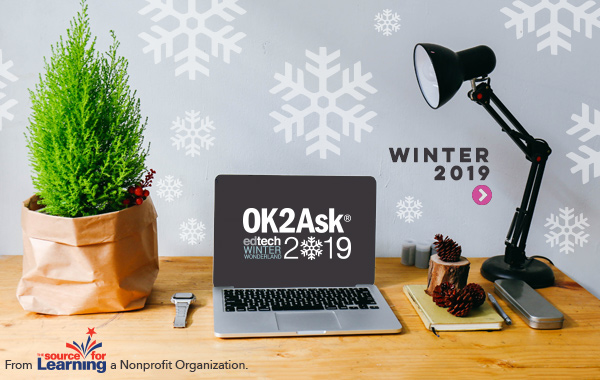 Free, Live Workshops for Teachers and Other Educators
Welcome to OK2Ask®, a series of live, hands-on virtual workshops for teacher professional learning.
Our virtual workshops are:
• Interactive and practical - 90 minutes of hands-on learning

• Packed with great ideas you can use in your K12 classroom

• Conveniently scheduled after work hours

• Available in live (for credit) and archived (without credit) formats

• Provided to teachers as a courtesy by SFL's TeachersFirst staff
Upcoming sessions
• Current schedule and registration information.

• Join our email list for regular OK2Ask updates.
Professional Learning is always better with friends, and sharing is caring!! Remember to let your friends know about the OK2Ask workshops that you have attended and how to register for our upcoming series. 
Our sessions are pajama compatible... All you need is a computer with a high speed connection (DSL, cable modem, or school network).


Professional learning certificates are available for those who participate fully and meet requirements.


All OK2Ask sessions are correlated with the ISTE Standards for Teachers so the objectives are well documented.
Wondering if the session is right for you? Check out our Technology comfort levels.
Have questions? Check out our FAQ