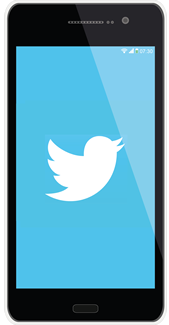 OK2Ask Twitter Chats
Named one of the "40 education Twitter chats worth your time"
See this ISTE blog post by Diana Fingal
Twitter chats provide educators with an opportunity to connect and grow their PLN (personal learning network) based on shared interests. A Twitter chat or tweet chat is a live, real-time, Twitter event where a group of Twitter users meet at a predetermined time to discuss a specific topic, using a designated hashtag, in our case, #OK2Ask.
Twitter chats are a great way for educators to:
Connect with other educators
Exchange ideas
Learn about hot new topics & trends
Share best practices
Reach out for help
Provide assistance
Twitter chats are 'pajama-compatible' professional learning events that provide a great non-threatening way to meet new people with similar interests. While you can participate without contributing to the conversation, you will get more from the activity if you share. Keep in mind that traditional networking social customs apply — courtesy and respect.
TeachersFirst hosts bi-monthly Twitter Chats @SFLOK2Ask using #OK2Ask. See our schedule of upcoming topics below. Whether you are a new, seasoned, or veteran educator and/or twitter user, these sessions are for you!
Click here for more information about how to participate in our Twitter chats.
May 3 • 8PM ET: Formative Assessment Tools
Discuss the instructional goals of formative assessment
Share tech tools that assist in formatively assessing students
Explore new ideas for how to best assess your students
---
May 17 • 8PM ET: Trend-worthy Tech Tools
Discuss current edtech trends
Share popular tech tools for the K-12 classroom
Expand your knowledge of tools that exist for various educational purposes within the classroom
---
June 7 • 8PM ET: Infusing STEM Into Any Classroom
Discuss ways to incorporate STEM into any content area
Share tech tools that promote STEM activities
Discuss ways to promote critical thinking skills through STEM education
---
June 21 • 8PM ET: Using Social Media Practice Spaces in the Classroom
Discuss ways to promote digital citizenship within the classroom
Share tech tools and activities that can be used to allow students to practice social media skills
Collaborate with other educators to share promising practices around edtech in the classroom
---
July 5 • 8PM ET: Technology and the 4Cs
Define and explore the 4Cs of education
Share ways to integrate technology into 21st century lesson planning
Share tech tools to facilitate higher order thinking and deeper learning
---
July 19 • 8PM ET: Infusing Global Learning Experiences
Discuss the tenets of global learning initiatives
Share ways to utilize technology to facilitate global learning experiences
Explore ways to provide students with an audience beyond the classroom to share their knowledge
---
August 2 • 8PM ET: Digital Storytelling
Define and discuss the basic principles of digital storytelling
Share tech tools that can be used for students to communicate and share knowledge
Share resources to help with lesson planning which incorporates digital storytelling
---
August 16 • 8PM ET: Keep Calm and Chat: All Things Back to School!
Share resources and ideas for a successful start to back to school
Discuss instructional trends or "hot topics" for the 2018-2019 school year
Share management strategies for how to create an organized and successful start to the year
Access archives of past chats here.
Want to receive reminder emails about our Twitter Chats? Sign up below: