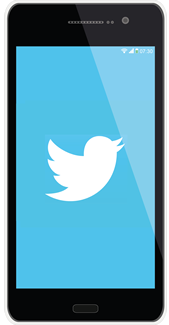 OK2Ask Twitter Chats
Named one of the "40 education Twitter chats worth your time"
See this ISTE blog post by Diana Fingal
Twitter chats provide educators with an opportunity to connect and grow their PLN (personal learning network) based on shared interests. A Twitter chat or tweet chat is a live, real-time, Twitter event where a group of Twitter users meet at a predetermined time to discuss a specific topic, using a designated hashtag, in our case, #OK2Ask.
Twitter chats are a great way for educators to:
Connect with other educators
Exchange ideas
Learn about hot new topics & trends
Share best practices
Reach out for help
Provide assistance
Twitter chats are 'pajama-compatible' professional learning events that provide a great non-threatening way to meet new people with similar interests. While you can participate without contributing to the conversation, you will get more from the activity if you share. Keep in mind that traditional networking social customs apply — courtesy and respect.
TeachersFirst hosts bi-monthly Twitter Chats @SFLOK2Ask using #OK2Ask. See our schedule of upcoming topics below. Whether you are a new, seasoned, or veteran educator and/or twitter user, these sessions are for you!
Click here for more information about how to participate in our Twitter chats.
December 6 • 8PM ET: Using Social Media to Increase Student Engagement
Discuss the benefits of using social media to increase student engagement
Share ways to utilize social media to foster global learning experiences
Share helpful resources to begin to incorporate more social media into daily lessons
---
December 20 • 8PM ET: Inclusive Technology
Discuss the need for technology that meets the diverse needs of our learners
Share tech tools that can aid in differentiating the learning environment
Brainstorm possible solutions to the challenge of meeting the needs of all students
---
January 3 • 8PM ET: Start the New Year Strong: Strategies for Effective Classroom Management
Share effective strategies to strengthen classroom management skills
Explore ways to promote a supportive classroom environment
Discuss technology tools that assist in managing and encouraging positive student behaviors
---
January 17 • 8PM ET: Handwriting Skills: Necessary or Not?
Discuss the role of handwriting in the digital age of education
Share resources to better understand the influence of handwriting on other developmental skills
Explore ways to balance traditional skills with more modern educational initiatives
---
February 7 • 8PM ET: Using Technology to Strengthen Social Emotional Learning
Define and discuss the main components of social emotional learning
Discuss the role of technology into strengthening SEL
Share resources to help educators address the social emotional needs of students
---
February 21 • 8PM ET: Resources for Digital Learning Day and Beyond
Define digital learning and its impact on education
Share resources for Digital Learning Day
Discuss ways to promote digital learning throughout the school year
---
March 7 • 8PM ET: The A in STEAM: A Closer Look
Define STEAM and discuss the role of the arts in STEM
Share resources that assist in integrating arts into traditional STEM lessons
Share technology tools to help teachers introduce arts into STEM education
---
March 21 • 8PM ET: Using Social Media to Build a Sense of School Community
Discuss the need for strengthening and building a united school community
Discuss the benefits of using social media to impact school culture
Share various social media tools and how they can be used to increase community engagement
---
Access archives of past chats here.
Want to receive reminder emails about our Twitter Chats? Sign up below: